---
Florabeane Pure Romance Paper Flower Course is available now!
PURCHASE THE COURSE HERE (nonsubscribers)
If you are a subscriber: Click here if you are subscriber and simply want the course at a discount.
If you would like to become a subscriber to access this, click here for the annual subscription or click here for the monthly subscription. After you pay, you can come back and purchase the course at a discount above.
The course will be fully loaded by the end of February!

Closed captioned videos will be available by the end of March.
In this course you will learn all of the flowers and foliage in this picture.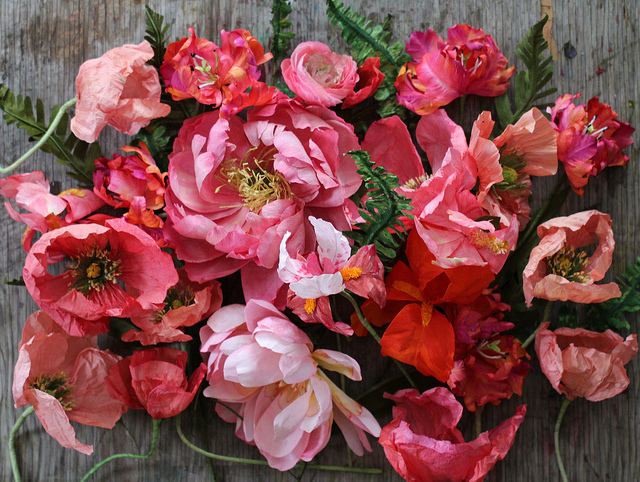 Paper Ferns-Paper Parrot Tulips-Paper Irises
Paper Poppies-Paper-Ranunculus-Paper Peonies
We will use both alcohol inks and watercolor inks with a discussion on their differences.
The major materials will be the inks, white and green doublette, and 16g and 32g cloth-covered stem wire, along with glue, scissors, paper cutter, stapler, cookie sheet, brushes, inks, plastic paint knives, and alcohol and water.
There will be bonus lessons on creating a hand-held bouquet, and creating an arrangement.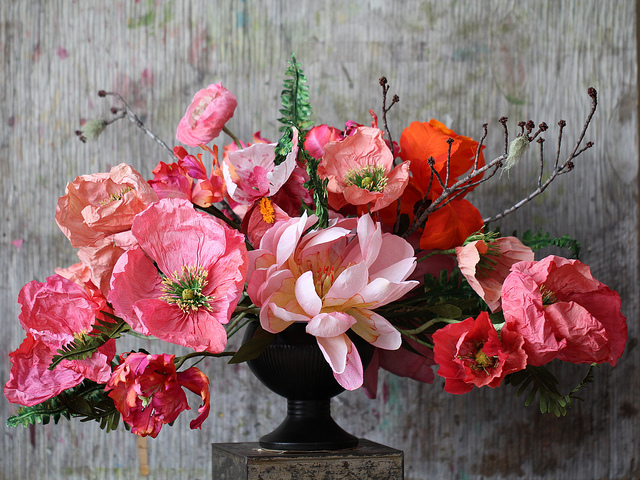 ---
I've partnered with Paper Flower Supplies for this course. The course and the supplies are sold separately for the convenience of those with lots of the supplies at hand.

Watercolor inks are not included with the kits. You will find a link to purchase in the Learn with Love link from Janita!
---
This bouquet was inspired by meeting my partner and waiting a long time for him.
Below is our story as it unfolded.
Thank you for enjoying our pure romance.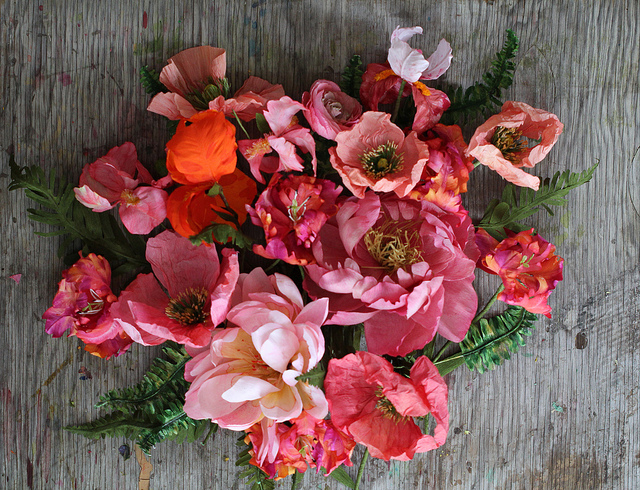 The big orange iris reminds me of my handsome beau. He recently resigned his teaching gig to focus time and energy on, well, his passions and what motivates him!
When I first saw him, I mean the very first time, I was sitting in the high school office waiting for my first interview to be the new Spanish teacher in this tiny one-light town. I was wondering what in heck I would *ever* do here. And then he walked by, and he just glowed. His skin was tan and his hair was bleached from the sun and his whole being glowed. He had a slight scowl and he walked away from me.
Something about that encounter? When offered a contract I wanted to work there. It took several years for us to finally bloom on this hill together, but here we are, and gut instincts aren't wrong.
By the way, he was glowing because it was very hot out and he had just come in from coaching. And he was glowering because the person he was looking for wasn't in the office. And he doesn't remember seeing me. But oh, I'll never forget seeing him.

When I moved to town, in 2007, it was early fall. Within a few weeks I'd been invited out by another teacher (who I dated for quite a while) to visit his buddy "up on a hill". As we drove up the road and then drove up the steep driveway and then arrived....I couldn't believe the colors, the smell, the view! The house was an empty shell, as he'd spent the summer building it, but it was standing tall and weatherized.
We quickly all made friends and I realized this buddy (who had a girlfriend) was the same person I'd seen before my interview. He was a classic stoic Yankee. The kind I understood so well, because I grew up surrounded by them! You can tell who they are by how they work and dress and what they drive and how they talk (or rather how they refrain from talking too much).
We discovered we were both one of six kids and we'd both picked enough vegetables in high school (for pay) to last a lifetime.
About a year after we met and started socializing, a friend of mine passed away suddenly and at a young age. I went to southern Maine for the service and came back, I recall it was a cold day in November. There were people gathering up "on the hill" and I went there.
I remember this: Owen got a flannel shirt and gave it to me wordlessly. And then he said, "let's go outside and start a fire." We burned that fire long into the night, and without being overt about it I knew then his character was extremely kind and aware. Beneath the scowl and gruff teasing was someone who cared!

I knew after the way Owen treated me after my friend's funeral that his understanding ran deep. We began to talk more, and we talked about farming and finances and food. Really. Because of him, I started an IRA. And ordered a half pig from a local farmer.
We talked about the things that mattered to us, as friends, in our endless run-ins socially and at work.
And then one day it happened-no, not what you think-a group of us were sitting around one afternoon chatting and I looked over at him and he was glowing again. He was bathed in golden light, his smile was lighting up the room and his relaxed manner was warm and happy. I had to look twice to be sure I wasn't tripping. Sure enough it was like God was shining a light on him: "This is the one!"
I didn't know what to do, so for many weeks I did nothing. I had a boyfriend. He had a girlfriend. We had never had a romantic interaction between us. I just had this light affirmation thing and a lot of confusion.
I decided the best course was to break up with my boyfriend and tell him the truth. I was interested in someone else.
The truth sets you free, but freedom is a lonely place. My boyfriend was understandably angry, and that hurt too. It took another several months for me to tell Owen I had feelings for him. "That's nice," he said. "I'm really happy with my girlfriend though." Our friendship went from discussing every little detail of adulting, to a chill out.
I was so sad, I moved away from town and to a little place with waterfalls and a rushing river just to escape the feelings of confusion, and loneliness. He was loyal, this Yankee. I couldn't help but like him even more for it, and give him as much space as possible.

I'm reminded of how long it took right now, watching the sun set over the ridge and listening to the comforting pat-pat of a sleeping dog's thumping tail, happy in dreamland. No, Owen didn't turn up at my doorstep in that little town with the big river. Instead we went our separate ways, painfully, a wall of silence where once there was a friend.
I got my masters degree, dated others, moved a lot. At one job, a job I adored, I convinced an out-of-state co-worker to accompany me to the local high school gym to watch the hoops showdown between the coastal team and my old Dirigo kids, many of whom I knew would be playing. "It'll be so fun!" I told her, "it's a Maine thing!"
She told me she'd come and we went, it was a frigid night like tonight and the whole town piled in to see their boys whup the other team, my old team. And of course we were in the bleachers when the boys ran out and the coaches walked out and there he was. Blue shirt, familiar scowl and that silly glow, Owen looking amazing even in the dead of winter.
I clutched my friend's arm and tried to explain to her what I was experiencing on the inside-knots? Elation? Confusion? Happiness?
I have no idea what happened during the game. I do know that his team lost. I watched him walk out of the gym with his team and wanted to run after him, but of course, that would have been silly. I watched him walk away.
Summer came. I was working in the gardens at Coastal Maine Botanical Gardens and saw a silver-haired hippy in one of our gated gardens. I knew who he was...an old friend. But he didn't know I worked there, and when I said, "hey you long-haired hippy!" with a huge smile, his first reaction was shock and then laughter as he recognized me.
"I am in town for a wedding!" he exclaimed. "You remember Owen! He grew up right around here!"
We hugged and he left, and I glumly finished my tasks in one of the most spectacularly gorgeous locations in Maine, my heart somewhere in the bottom of the pond in the children's garden.

Owen was officially taken. Meanwhile I dated seriously, I dated for fun, I spent lots of time wondering how single Mainers meet and tried every single service. Finally after two years of this I met a guy my speed. He had two sweet kids, and he was in the middle of a divorce, but he was smart and farm-y and a teacher!
After a wonderful fall of dating, we made plans to visit my family in Portugal. I felt excitement, but also a vague sense of: Portugal is a really far away place to be with someone who is still married.
The closer the trip, the more little stressors popped up. He had duties that week for school clubs, but he could surely Skype in to assist with them? He would also miss his kids, he only saw them half the time...I totally got it. We were going for ten days, not forever, but it was going to be hard.
The winter dragged on and the time to travel got closer. As I lay in bed alone at my house with flu my mind raced. This was the "one" right? Had to be, because look at all the boxes I could check! And yet...I couldn't shake the feeling the trip was going to be an expensive disaster for a not-quite-perfect couple.
I thought long and hard about it all. Then did probably the worst a girl can do: text break-up. It was winter, he was thirty miles north and busy virtually every night for weeks, and I was one tired woman. I'd recently endured a major surgery, some crappy boyfriends, and finally a good one! But the energy simply was not right.
He was understandably upset, and I felt like I'd just changed course and avoided an iceberg.
A few days later, just as I'd finished calling the airline to do a ticket date change, (because February really is the worst time to travel, I don't mind traveling alone but who wants to come home to frozen pipes?) a little red dot pinged on a blue banner. Friend request from....who? Seriously....Owen? I stared at the request for hours, convincing myself it was a joke. But what if it wasn't?
For those hours wondering, my mind drifted back to the previous five years. Yes, there had been some really good guys in my life. But more often than not, I was alone.
Sundays were the hardest day. Without a family, or a pet, I'd often lie in bed watching TV all morning. I'd cry, too, sometimes, because frankly life can be hard in your late thirties.
I'd been married before, for five years in in my twenties. Because of those years, I'd deliberately spent my thirties traveling, teaching, learning, growing.
I thought back to the dating post-divorce. Oh, all the fellows. A lawyer. A doctor. A gentleman sailor. A teacher and father, two different times. A mechanic single dad snowmaker, for well over a year. A landscape architect. A basketmaker.
None of these were the one. None.
Looking out the window, I saw the wind had whipped the snow on the corner fencepost into a ghoulish snowman, a wraith shaped by wind and storm after relentless storm. It was completely gray and cold.
I had a choice, and it felt easy. I accepted his request.
Within a minute, a short flurry of messages flooded my inbox.
-I don't want to disturb you, I appreciate you accepting me. I just have a few things to say.
-First I would have totally understood if you decided not to be my friend.
-Second, I am deeply sorry.
Owen's messages continued.
-It wasn't fair the way I didn't explain to you more of how I was feeling and what I was dealing with.
-If it's ok I'd like to chat with you more.
The man of few words had a lot to say. We texted for a few hours, just like we had in the beginning of our friendship. He asked me if I was single or married, or if I had kids, my job. He explained his divorce, his current situation, his hope that we could be friends.
His hope that we could be friends? Hello, we were meant to be soulmates!
We decided to keep apprised of each other's schedules-he was coaching so he didn't have a ton of free time just yet. I was working, and it was winter, and a two hour drive to his house was not what I was about to do.
They weren't officially divorced, but she had moved out. They were going through mediation. It was during one of those appointments that I got a text. "In Portland, sorting things out.'
"I am in Portland, too...conference."
A few minutes passed. "Coffee when this is all done?"
"Yup."
It was so cold that day. I waited inside the university student center near where the conference was being hosted and sweated through my layers. There was an art exhibit, I recall, with photos from Aroostook County during the Depression. I waited and waited. Finally I went outside.
There he was, crossing the street and coming toward me!

He looked up. His eyes found mine and he smiled warmly. He gave me a gentle hug, and then said, "ok, drank a ton of water!" So we went back in for the men's room and he commented on the photos and then he asked me if coffee was ok. Yes!

We made our way to Portland's Old Port in his truck. He seemed relaxed, but I was extremely nervous. We walked in to the coffee house and ordered drinks. Finally we were squared up across from each other, eyes locked.

"I can't even believe this worked out," I said, referring to the snow day re-scheduling of my conference to coincide with his meeting.
"I'm really, really happy you decided to meet up," he said.
We sat, his smile warming my nerves so that eventually we were both grinning stupidly at each other. Then he asked, "Drive along the promenade?"
We drove along the eastern prom and found a place to sit looking out over the Atlantic. We began to talk in earnest. I told him about my surgery for fibroids, endometriosis, cystitis and infertility. He told me he had multiple sclerosis and had been in the hospital for some heart issues. He'd been really, really sick and it had been awful.
I reached across the seat and grabbed his hand. The sea was silver in the winter light, and the sky was pinking with the early winter sunset. He pulled me closer and put his arm around me, hugging me close.
It was all I'd ever hoped it to be, that side embrace. I rested my head on his shoulder as we continued to talk.
"I missed you so much after we stopped hanging out," he said.
"You seriously have no idea. At least you got married. I went through online dating hell!"
We laughed. I turned to him and he kissed me, with the mighty ocean in front of us and behind us, a blazing city on a hill.
-
We spent Easter at my house with my brother and family. We spent May visiting my parents and went to his family camp. He often would go visit his parents, who lived twenty minutes away from me, and then visit me and take me out to eat before the long drive home. Then he told me he was getting a puppy.


We met up in one of the commuter lots halfway between us and drove down the highway to find his dream dog, an English Mastiff he'd already decided to name Gronkowski. What awaited was forty pounds of drooling doorstop. Seriously, this puppy wasn't a runner or even a frolicker. He sat on his butt and refused to move after we'd leashed him and began to interact. "Go to mommy," Owen said to the dog.


My heart. I didn't know if I could have children, but at 38, I had SO much love to give. It was an honor to hear him say that to me.


And, that puppy needed me. I was wrapping a 30-month project, working remotely on reports, charts and graphs. I spent days with Gronk while he worked.


Owen needed treatment one week for his multiple sclerosis. We piled in the truck every day and I walked the puppy around town while he got his infusion to help him feel better. Once while I was walking, a lady gave us irises she was cleaning out of her garden near the hospital. Once, Owen forgot something inside so I went back in to get it for him.
The nurses chatted to me, and asked how long we'd been married. "Oh, we are not married..." "You're NOT?" The senior nurse sputtered. "Well I simply can't have this, we've just shared private information with you. Where is he? I must disclose what just happened." She sounded like I needed scolding, so I took her out to the parking lot, Owen, and the puppy.
"Sir, I am so sorry, I have mistakenly identified this woman as someone who can receive health information. I am so sorry." He told her it was fine, she patted the dog, and all was well.
I realized, I did want to spend the rest of my life with him. It was a no-brainer.

Owen invited me to live with him after my lease was up on the coast that summer. I was rapidly approaching the end of a wonderful grant-funded position at the botanical gardens two hours away from him. I remember very clearly his encouragement during a time of re-applying to continue the work. It looked to be several months of wait-and-see and it was such an exciting project I was willing to wait it out.

We floated the Sandy river. We visited his grandpa, who he jokingly calls the "last poor person on Cape Elizabeth" with a lobsterman's house walking distance to Kettle Cove. We spent days working the land and shaping new gardens.

It looked like the decision on the next phase of the project, if funded, would be made end of November. I decided to take the trip to Portugal before it expired. Owen dropped me off in Portland with a hug and a kiss.

I hadn't been feeling well most of the summer and had done a fairly strict elimination protocol to see what foods were giving me fits. So when I got on the plane I had just come through the experience and was extremely healthy after three months of no sugar or gluten or caffeine or nightshades or etc.
What a wonderful ten days we had. I recall driving to Madrid from Cascais, and spending three days with Venezuelan friends and speaking Spanish at the table and laughing and crying. The hosts were both doctors. And I confessed to the wife how much I wanted a baby. "IVF!" She said. "Like THAT." And she snapped her fingers. Inwardly I laughed at the thought because we were poor people in Maine. One unemployed, one a teacher.

A few days later I was feeling really wretched, I assumed due to the rich foods consumed. And my period was late. I assured my sister-in-law whose eyebrows about fell off her forehead I was not pregnant. I'd never been pregnant. Didn't our friend just recommend IVF? I was just sick....she got a test and made me take it. It was positive. So my brother drove me to the clinic in Lisbon and did a blood test. And, it was positive.
I still have the Skype screenshot from telling Owen this news....

I flew home from Portugal and immediately started subbing for a local teacher on maternity leave. On the very first day I became sick. And I hadn't told a soul in the states yet! I confided in a co-worker who started checking on me daily. I was almost 39 and winter was approaching.
At Christmas we told our families and everyone was delighted. I thought my pregnancy would get easier. Subbing ended and it was a cold January day when I found myself laying on my side on the couch and feeling poorly. I was flipping through Instagram and saw work on the @designsponge feed from @cobralilyshopand many others. All of a sudden my body felt a little lighter. My brain ignited with the possibility of something exciting to do with my hands. I started googling and found a @marthastewart peony tutorial and then godetia from @liagriffith. I noticed @thelovelyave had a lovely website and my eyes almost fell out of my head when I discovered @a.casual.florilegium and @tiffanieturner.
The ailments that made this pregnancy so difficult were easily ignored as soon as I got the first rolls of paper in my hands! Owen came home from work almost every day in January after I got my supplies. "Look! Look at this! I can make it look real!" And that was the beginning! Go to the #Florabeane tag and scroll back to see those humble starts. It was a few weeks later I posted my first batch cut paper flowers and a colleague messaged asking if they were for sale. And so, my business was born before my baby arrived.
She did arrive, in June, and I have not looked back from that initial cold day in January 2016 when Grace Bonney introduced me to the artists and the art form that would change the course of my vocation as teacher.
And so, our prize. Our baby was born healthy. And then, our real adulting began! We made choices that worked for us in that moment. I was able to stay home; Owen worked as many as four jobs at a time. Those IRAs we'd funded as forward-thinking summer-working teachers? In the leanest times we had those reserves. I literally started an IRA because Owen discussed the merits of it with me years ago, in our "just friends" stage. We attended his cousin's wedding together (I did the flowers). And his family came to my nephew's funeral (holding us up when we couldn't hold ourselves). See, love isn't all peonies and tulips and red hearts one day a year. Love is not sleeping for a week and having your partner tell you "go take a shower and lay down, I've got this". Love is massaging nerve pain past midnight because no one can sleep when one of us hurts. Love is the last ten days at my house: flu, no hot water, snowed in, and practically cabin-fevered past the point of sanity. And yet, we still feel we are winning. We hug each other every day. We marvel at the beauty of our family, the clarity of the stars on a clear night, the diamonds in the snow after a cold spell. Love is a lot more than pure romance. Just to be clear.